3D Printing & Rapid Prototyping Lab
The 3D Printing and Rapid Prototyping Lab hosts an array of cutting-edge additive manufacturing and reverse engineering technologies, with the capabilities to print in a wide array of plastic, powder, and metal materials. These professional level tools are available as a pay-for-print service, as well as for limited training through courses offered through the Segal Design Institute. The lab houses professional staff, as well as multiple undergraduate and graduate assistants.
The lab may be used for work on any Northwestern course, or research project, which has a Northwestern chartstring account number available to bill charges. Student startups may use the lab if you have access to a Northwestern account, and corresponding chartstring.
Equipment & Materials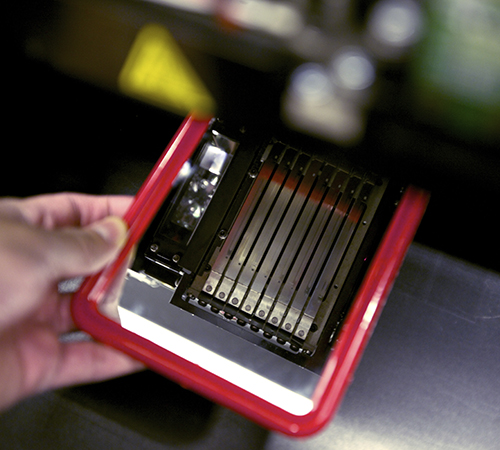 The 3D Printing & Rapid Prototyping Lab has the following equipment:
Stratasys Connex 350

Stratasys Fortus 250mc

Stratasys Fortus 380mc

Formlabs Form 2

3D Systems Z450

3D Systems PXS

Romer Absolute Arm 7535 Si
Detailed information on each machine, including available material types and costs, can be found on the Rapid Prototyping Lab data sheet.
Using the Lab
The formal process for submitting part(s) to the Rapid Prototyping Lab for printing is through the main lab email: rp.lab@northwestern.edu. However, you can always stop by the lab during office hours to talk about your needs and see what the lab has available.
Submitting Requests
1. To submit a request, please email the lab with the following information:
STL File of each individual part to be printed
Quantity of each part file to be printed
Machine & Material choice for each part file to be printed
A non-grant chartstring account number to charge build costs
2. Meet with RP lab staff during office hours to review machine and material options, and finalize remaining details.
A meeting is only required for first-time requests of each part. Iterations & revisions may be requested without requiring a meeting
Precise quotes can be provided at this meeting
Significant part changes or new part requests require a new meeting
Training
Training is available through the following courses:
DSGN 348: Rapid Prototyping - 

A five-week course in additive manufacturing theory, machine use, and applications in rapid product and prototype development
Location
Ford Motor Company Engineering Design Center
2133 Sheridan Road
Evanston, Il, 60208
Sub-Basement Floor - SB-310
Back to top