Mechatronics Design Lab
The Mechatronics Design Lab is a fabrication facility and classroom which houses equipment for the building of microprocessor-controlled electromechanical systems. The lab includes all necessary equipment for electrical wiring and prototyping, processor programming, and low-level physical prototyping. The lab also has a limited supply of basic electrical components free of cost, with larger, more complex components available for purchase.
The lab is staffed by professionals, as well as multiple undergraduate and graduate assistants, and is home to a number of mechatronics courses in mechanical engineering and the Segal Design Institute. The lab may be used for work on any Northwestern course, or research project, which requires development of mechatronics systems.
Equipment & Materials
The Mechatronics Design Lab is home to workbenches for electrical and software prototyping, each of which contains the following pieces of equipment: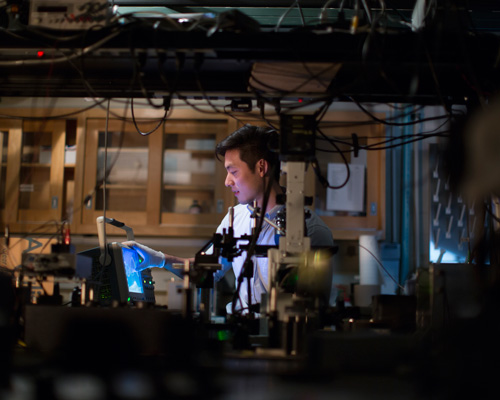 Tektronix TDS220 oscilloscope
Tektronix CFG253 function generator
Mastech power supply
Desktop computer
Soldering iron
Wire spools
The lab also includes the following pieces of equipment available for general use:
3x monoprice FDM-type 3D printers
PCB milling station
Detailed information on each piece of equipment and general lab stock can be found on the Mechatronics lab Wikipedia page.
Training
Training in the Mechatronics Design Lab is available through individual training or mechanical engineering courses.
Individual Training
Depending on your project and needs, faculty and staff in the mechatronics lab are available to train students on certain pieces of equipment or processes. If they are unable to help out with a specific piece of equipment they will direct you to online training resources.
Courses
Training is available through the following courses:
Location
The Mechatronics Lab is located in the Ford Motor Company Engineering Design Center in room B100.
Back to top